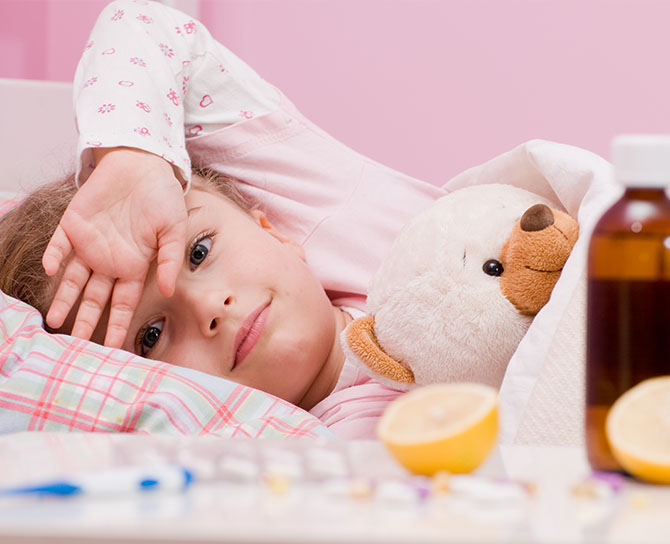 Because the immune systems of children are not fully developed, and because children are often in close proximity to one another in environments such as day-care centers, classrooms, and on school buses, the transmission of contagious diseases is particularly easy. Contagious diseases are often caused by the spread of bacteria (such as in scarlet fever) or viruses (such as in chickenpox, measles, hand-foot-and-mouth disease, and several others) in droplets of saliva and mucus, especially when coughing or sneezing. Contagious diseases can also occur by coming in close personal contact with another infected person or even by sharing personal items, as in infestation caused by insects (such as with scabies) or a fungal infection (such as in ringworm). Many childhood diseases, once contracted, result in lifelong immunity, but this is not always the case. Vaccinations also provide immunity to some of the diseases below. Unfortunately, many of these diseases are most contagious before the infected child has any symptoms of the disease, making transmission even more likely. Some of the common diseases of children are explained in the following:
Symptoms
Red, quite itchy, spots or blisters are typically scattered over the entire body, spreading to the arms, legs and face. The condition, caused by the varicella zoster virus, most commonly occurs during the first decade of life. As a rule, the older the infected child is, the more severe the disease. The child has a moderate fever and mild flu-like symptoms prior to the rash becoming apparent. It's possible for some children to have these early symptoms and to develop little or no rash.
Treatment
Symptomatic treatment with calamine lotion and/or antihistamines, eg Piriton to reduce itching. To reduce fever give paracetamol, eg Calpol and/or ibuprofen. Should the spots become secondarily infected with bacteria, an antibiotic may be necessary. Antiviral medicine is sometimes prescribed in severe cases.
Incubation period
Between 10 to 20 days from being exposed to the infection and showing symptoms.
Infectious period
Chickenpox is highly contagious from a few days before the disease breaks out until the last blister has crusted over, which usually occurs within a week of the first spots appearing. The child should be excluded from school during this time and avoid contact especially with pregnant women who have not previously had the condition and anyone who is known to have a compromised immune system, eg receiving chemotherapy. The condition is transmitted through droplet infection from coughing or sneezing and from the fluid within the blistering rash.
Symptoms
Whooping cough is a bacterial infection affecting the respiratory system, caused by the bacterium Bordetella pertussis. The condition is characterised by fever, nasal discharge and long fits of coughing followed by wheezy breathing and possibly vomiting. Symptoms are typically worse at night.
Treatment
Antibiotic treatment is usually successful leading to a full recovery. Fresh air is important. Because of the risk of vomiting, the child should be given small meals more often, instead of a few large ones.
Incubation period
This begins from seven days after exposure to the condition.
Infectious period
The disease is especially contagious during the first week, while the child still has a trace of a cold. Although the irritating cough has been known to go on for up to 3 months, the infectiousness wears off within five to seven weeks. It is important to keep the child away from other children under the age of one year. Children should be excluded from school until they have completed five days of antibiotic treatment.
Treatment
The condition is due to infection with Parvovirus B19. The child will sometimes initially develop mild flu-like symptoms. All will eventually have red specks, firstly on the cheeks, and later spreading to involve the arms, thighs and buttocks. These are often blurred which makes it look like the child has been slapped. For this reason, fifth disease is often known as 'slapped cheek' syndrome. It can last up to 14 days and is mostly seen in children between the ages of 4 and 12.
Incubation period
It cannot be treated, but disappears by itself. It is usually quite a mild illness.
Infectious period
Two weeks between being exposed to the infection and showing symptoms.
Complications
Once the rash appears, the disease is no longer infectious.
Complications
Pregnant women should avoid being in contact with children with fifth disease as it may cause a miscarriage. Pregnant women with a child who contracts fifth disease should contact their doctor. The incubation period is a couple of weeks.